For decades and decades, there were only the Bullet and Classic motorcycles from the Royal Enfield lineup that were picked and picked frequently by custom bike builders. Now though, Royal Enfield's lineup is more diverse than it's ever been. The Meteor 350, for example, is the first motorcycle to get a J platform engine. It too, like older Enfields, has grown popular for customisers. One we're featuring here caught our eye for how the Meteor's personality has been transformed into a sporty one.
The custom job carried out by Modbike pretty much transforms the Meteor 350's personality from a cruiser to a sportier classic roadster, much like the Hunter 350. The changes to the front end which include an aftermarket headlamp with a custom bracket, fork gators, custom handlebar, and a new fender, have done plenty to bring out the roadster in the Meteor. The rearview mirrors have been swapped with aftermarket ones as well.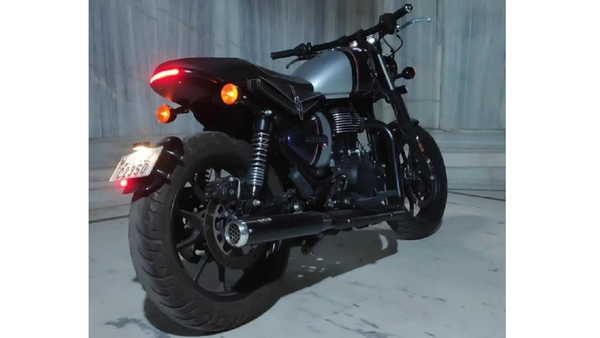 The seat is new and gets a step in the middle and sits on a new custom seat frame with an integrated LED tail lamp. The tyre hugger is bespoke and gets an illuminated number plate holder, along with a new base plate as well.
One of the highlights of this custom build is the custom exhaust system with two sleek end cans on either side. The retro charm benefits from leather saddle bags, one on each side. The bike now rides on 17-inch wheels shod with a 130-section tyre at the rear, instead of the stock 19-inch wheels.
The footpegs have been replaced with new centre-set ones, unlike the Meteor's forward-set ones. The paint job is a unique blend of blue, white, and red, along with a black finish on the engine and other components.
The handlebar and placement of the footpegs have completely overhauled the Meteor's appeal into a roadster-style motorcycle. The engine remains the same 349cc single-cylinder that makes 20.2 bhp and 27 Nm of torque, paired with a five-speed gearbox.