PANAJI:
Forest
minister Vishwajit Rane on Sunday planted mangrove saplings on the Mankule
island
in
Mandovi
. Rane said that highest priority will be given to
protection of mangroves
in the state and not a single mangrove tree will be allowed to be cut.
He said that he has instructed forest officials to plant over 15,000 more mangrove saplings on the island.
"Our initiative should be ongoing, which unites governments, conservation specialists and coastal communities through a shared goal to conserve and
restore mangrove habitat
in the state of Goa," Rane said.
He said that in many places tactics like blocking the flow of water is being used to see that mangrove forests die. We will keep a close watch and crack down on such acts, he said.
"Being the forest minister, it is my duty to ensure the conservation of our ecosystems and their biodiversity as it has numerous co-benefits, both for the locals who depend on it and humankind worldwide. One such diverse ecosystem which our state depends on are the mangroves, as they regulate our climate, protect our coastlines, provide us with food, and sustain livelihoods," the minister said.
He also released a poster on 'Mangroves – a unique ecosystem' during the plantation drive.
"Put together by our forest department, this knowledgeable poster highlights the importance of #mangroves in a coastal state like Goa. Let's vow to protect #mangroves and ensure collaborated effort to reverse the decline of mangroves," Rane said.
To begin with more than 200 mangrove saplings were planted on the Mankule island to mark
World Environment Day
. The island has recently surfaced in the Mandovi.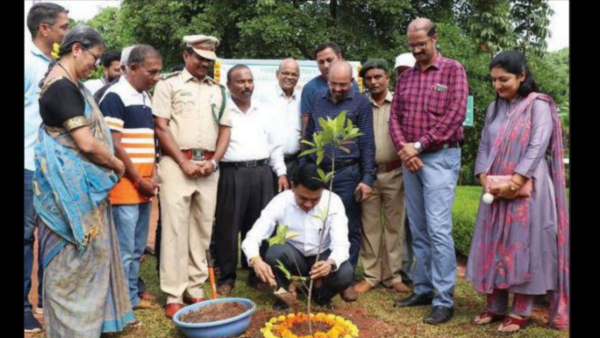 Mankule island has newly surfaced in the Mandovi
Meanwhile at another World Environment Day event, chief minister Pramod Sawant said that Goans have to keep their surroundings clean so that they can set an example for tourists, only the tourists will also not litter.