CHANDIGARH: From the beginning of June till date, there has been a 75% increase in active Covid cases while weekly positivity rate has also risen by six times. Despite this, residents seem to be reluctant about following Covid appropriate behaviour.
Prof P V M Lakshmi of the department of community medicine and school for public health, PGI said, "There is hardly anyone seen in public places wearing a
mask
and masks are also not worn the correct way. Even in crowded places or hospitals, people are roaming casually." She added, "At least in places which are not properly ventilated, triple layered masks must be worn. As the virus has all symptoms resembling a flu, people are not worried about the pandemic now."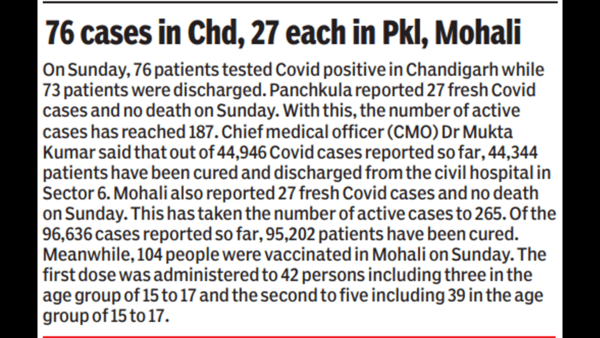 Though the transmission of the Omicron variant is faster than any other variant, the virulence or severity is low. This is one of the reasons for most residents lowering their guard. However, the number of the patients admitted for oxygen support has also been increasing gradually. "There are 21 patients on oxygen support and four on ventilators but this is comparatively less than the previous Covid spikes," said a public health expert.
On Sunday, 76 patients tested Covid positive while 73 patients were discharged. Positivity rate was 5.56% on Sunday while weekly positivity rate was 6.03%. There are 495 active cases and 93,552 confirmed cases, including 1,165 deaths. The total recovery count is 91,892.
Also, the rate of vaccination in children between 12 years and 18 years has not been picking up after the end of the third wave. Sources said 60% of children between 12 years and 14 years of age are yet to be fully jabbed, while 32% between 15 years and 18 years of age are to be fully immunised. "As there is no hospitalisation and symptoms are mild, the pace of vaccination has slowed down," said director, health services, UT, Dr Suman Singh.