KOLKATA:
Karnataka
tourism is striving to woo Bengali travellers back to the state as offices in the country's IT hub at Bengaluru have started reopening post pandemic and the state is pinning hopes on Bengalis for work as well as leisure trips. A large team of representatives of the state's tourism department hosted a road show in the city on Monday to lure Kolkatans.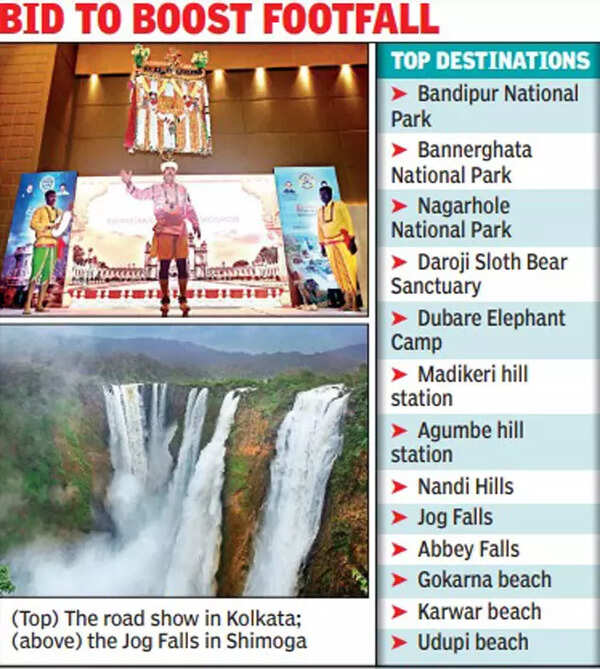 "A large number of people from Bengal work at IT and other offices in and around Bengaluru. They not only brought in revenue to the state by staying in Karnataka but travelled a lot on weekends as well as took long holidays to places in and around Karnataka, leaving their footprints in the top tourist destinations. But during Covid, as Bengalis started working from home, Karnataka tourism footfall dipped. However, things have started getting better now and we are expecting the return of techies and tourism back to Karnataka," said Venkatesh T, director, department of tourism, Karnataka.
According to an official of Karnataka tourism, till 2019 Bengal stood fourth after Maharashtra, Tamil Nadu and Andhra Pradesh when it comes to tourist footfall in Karnataka, contributing to 15% of the total tourists in the state.
"The numbers dipped sharply during the Covid years. But it has started getting better and we expect to host at least 20-25 lakh tourists from Bengal this year. The best thing about Bengali tourists is that they plan their vacation in advance and there are groups who come from Bengal, live with their families in Bangalore for a few days before they start touring the state," said S Mahalingaiah-Manu, the director of Skyway International Travels in Bangalore.
Rolling out a slew of new packages and attractive new destinations for the Bengali tourists, officials of Karnataka tourism said they have developed a large number of budget as well as premium staycations in Karnataka.
"Previously, we used to focus on limited network connectivity to keep the virginity of our resorts and hotels located in remote places. But post Covid, we have developed internet connectivity and Wifi presence in all our resorts, making them fit for staycations to serve people in the Covid normal era," said Manoj Kumar, IFS and Managing Director of the Karnataka State Tourism Development Corporation managed Jungle Lodges and Resorts.