KALABURAGI: As many as seven people were charred to death and 16 were injured when a private bus, in which they were travelling, overturned after colliding with a goods van at Kamalapur, 35 kms away from here on Friday morning.
Eye witnesses said that there was a collision around 7am between the bus, carrying about 25 passengers from Goa to Hyderabad, and a goods van. Later, it rammed to a bridge and overturned and caught under fire.
"Goods van was coming towards Kalaburagi. The crash was very violent. Bus caught fire as it fell into a roadside pit. Passengers started shouting but the whole bus burned within a few minutes" they said.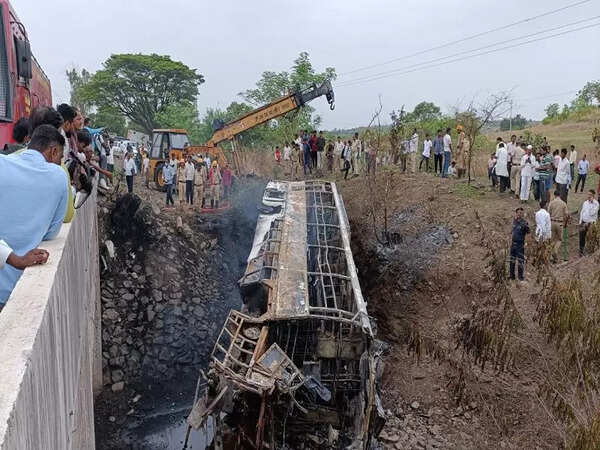 Few passengers could get out by breaking window glasses and others struck in the bus itself.
Deceased passengers were identified as Arjun (34) Saraladevi Arjun (32) Vivan Arjun (02) Shivakumar (35) Ravali Shivakumar (30) Dixit Shivakumar (09) and Anita Raju (40) all are residents of Sikandarabad in Telangana. As of afternoon, only bodies were removed from the bus. Relief team was struggling hard to enter the bus as it was still filled with heat.
It's said that
Seven deaths are confirmed and police are verifying the number of other passengers. Among the injured, the condition of 12 people is said to be serious, and they are admitted to a private hospital in Kalaburagi.
Kalamapur police said that Arjun and Saraladevi Arjun had taken 30 of their family members, friends and neighbors to Goa on May 29, to celebrate the birthday of their kid Vivan and had left Goa on June 2 evening.
Kalaburagi SP Isha Pant, additional SP Prasanna Desai and other officials have rushed to the spot and are monitoring rescue operations with the help of local people.